Interviews in Creativity is a new series where Jacqueline Wolven chats with creatives to see what helps them stay motivated, organized and how they get work done.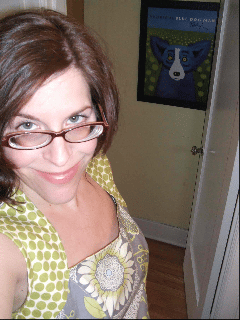 Belly dancing, prairie crafts, and Nancy Drew – for the uninitiated that might seem like a very odd combination, but for Jennifer Worick it is all in a days work. Jennifer is a best selling author, consultant, freelance writer, editor, and public speaker on a variety of topics – an eclectic talent with extraordinary humor and writing experience.
I sat down, virtually, with Jennifer earlier this month to talk about her work and how she makes it happen on a day-to-day basis.
When did you decide to do creative work professionally?
J.W: I was working in publishing as an editorial director and it became clear to me that I was not happy sitting in meetings and managing a staff. It did not feed my soul the way editing a book or even writing did. So while I was still working at the publishing house, I co-authored the Worst-Case Scenario Survival Handbook: Dating & Sex in my spare time. Happily, that book was a New York Times bestseller and really allowed me to venture out on my own as a freelance writer."
What is a typical day like for you?
J.W: Well, that's hard to say. Scheduling my time is one of the hardest things I have to do as a one-woman show. I usually get up, check e-mail, and get organized, then write/craft intermittently at my home and the local coffee shop until I go to bed around midnight. It's hard to turn off when there's no "finishing" my work. There are always new pitches, new craft projects to create alongside the stuff that's currently due.
When you are blocked what do you do to get out of it and back working?
J.W: I have been recently blocked and I think it's good to try a different craft or kind of writing from what is actual, contracted work. If I'm knitting ad nauseum, turning to jewelry and pounding a pair of silver hoops or a stamped message bracelet is good for my soul. If I'm writing one craft tutorial after another, I try to write something more personal such as a family essay or journaling. That always seems to recharge me. Setting up a coffee date or craft night with other creative folks always juices me; working in isolation definitely has drawbacks. Then, of course, I've heard that taking a walk or getting some exercise can work wonders…
Where do you find your greatest inspiration?
J.W: Everywhere. Reading something wonderful from someone else, even a short line on Facebook, inspires me. Seeing shapes in nature, looking at fashion both current and vintage, and just looking at my materials can get me going. Sometimes you have to sit with a piece of writing or a piece of silver or a skein of yarn and let it tell you want it wants to be. I'm pretty impatient so I often skip this step and barrel ahead, which often is a mistake. I also find a lot of richness in my personal history. My farmer relatives, my childhood in Michigan—I'm always trying to find ways to tap into that.
What quirky thing do you do that is part of your creative life?
J.W: I'd like to think that everything I do is quirky, but it's more ADHD than whimsical. Hmmm, I read a lot of US Weeklies in the bathtub as a way to chill out at the end of the day and clear my mind for bed. Last night, I got up at 1am because I couldn't sleep and I had a brilliant idea for gift-wrap. I'm more tortured than quirky.
If you could give one piece of creative advice, what would it be?
J.W: I hate wasting time and materials so I'm not the best experimental crafter. I think my Myers-Briggs type is to blame for that. But I guess I'd say to talk with other crafters, visit craft stores, read blogs, get to know people. There is an incredible community around every and all crafts (sites like craftstylish.com and craftzine.com are terrific) and crafters love to share their discoveries. That's probably the best way to find what inspires you and to keep you interested, engaged, and growing in a craft.
Where can we find your work – or learn more about you?
J.W: You can follow my adventures in crafting an writing at both my Prairie Tales blog, and my website, JenniferWorick.com.
Jacqueline Wolven is interviewing creatives as part of an ongoing series to see what helps them stay motivated, organized and get work done. If you would like to be interviewed or can suggest a great subject email MoxieWorks, delivering big marketing ideas to the small business.